Lesbian Kissing in Histeria
The lesbian kissing scene in the film Histeria, which opened in cinemas nationwide yesterday, turned out to be nothing but a gimmick. Moviegoers who caught the premiere last night left theatres disappointed when the highly-anticipated scene never materialised.
The movie created a buzz when it was reported that it contained a scene showing two schoolgirls kissing. Director James Lee told Malay Mail the actresses in the scene, Nurliana Samsuddin and Sharifah Norazean, did not actually kiss.
"The scene was supposed to be a teaser. It showed the two actresses about to kiss but were interrupted," said Lee. This was the part shown to the Press at a media preview recently.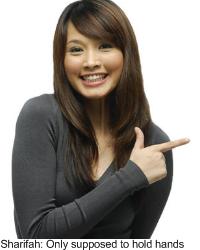 Lee was responding to a report in an English daily yesterday that moviegoers would be able to see the first-ever onscreen kiss by two Malaysian actresses. Nurliana was quoted as saying that they were only supposed to have held hands but were told by Lee to instead kiss to strengthen the scene.
She also said she was nervous and added that it was the most awkward experience in her career as an actress. Histeria, produced by Tayangan Unggul, tells the story of a group of girls who decide to spend a weekend at a haunted hostel.
Their stay inadvertently unleashes an evil force and the girls have to find a way out of the school. The movie marks Lee's first commercial effort.
He is better known for his indie films such as the award-winning The Beautiful Washing Machine, which won the Best Asean Feature award, and the Fipresci Prize at the Bangkok International Film Festival in 2005.
Popularity: 3% [?]
Waw! Lagi Artikel Tentang Artis Malaysia: